Open Source Desktop Applications
The list of the top Desktop Applications with an Open Source license.
Office suite
Libre Office Platforms: Linux/Mac/Windows onboarding Non-programming tasks: Documentation,
Web browser
Media Player
Image editing
Communication
Audio recording and editing
Audacity audio software.
Notepad++ Windows only text editor. Written in C++.
Partially taken from this list where there are a few more.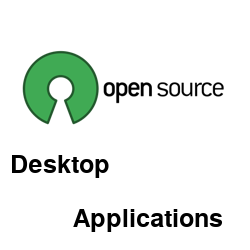 Other
Visual Studio Code is the Open Source IDE created in Microsoft. It is written in NodeJS and its source code is available on GitHub.
FreeCAD is a 3d parametric modeler It is using a lot of C++ and Python and some other technologies. Source code is available on GitHub
---

---
Published on 2020-04-05